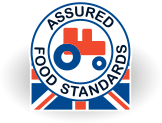 I got an email a few weeks ago about the British Poultry Recipe Challenge challenging me to make a family friendly meal,  I was in fact on holiday at the time and so I had time to think about it. Every family has their 'go to' recipes that they pull out of the bag when all else fails, and this is one of ours. All of our children love pasta, our youngest is gluten intolerant so we just use gluten free pasta if she is eating with us. This is such an easy one dish recipe and above all its low cost too.
The Red Tractor logo is displayed on food to show that it is farmed and prepared in a good way which is regularly checked by independent experts to make sure it is of a high standard. All of the produce can be traced back to its origins. 75% of UK farms are Red Tractor assured.
This bake is so simple to make and delicious to enjoy – and above all caters for the fussiest of children. I find with a large family (4 children and 2 adults) often the huge preparation time that goes into meals feels wasted when you get the fussy eaters picking things out. But this easy cook recipe can be adapted to include the vegetables that your children love, and there is always the option of hiding vegetables in this bake by cutting them small! It can also be adapted to use what you have in the cupboards!
Creamy Chicken Sweetcorn & Pasta Bake
Ingredients
300g chicken breast cut into small bits*
300g dried pasta shapes
300ml chicken/beef stock
30g butter*
2 tablespoons of cream (any variety)*
30g plain flour
400ml milk*
200g grated cheese*
1 broccoli cut into small parts*
6-10 mini corn on the cob – or sweetcorn from a tin
Salt and pepper
1 clove of garlic (chopped or minced)
Items denoted with a * displayed the Red Tractor logo, other items available in this range can be seen here.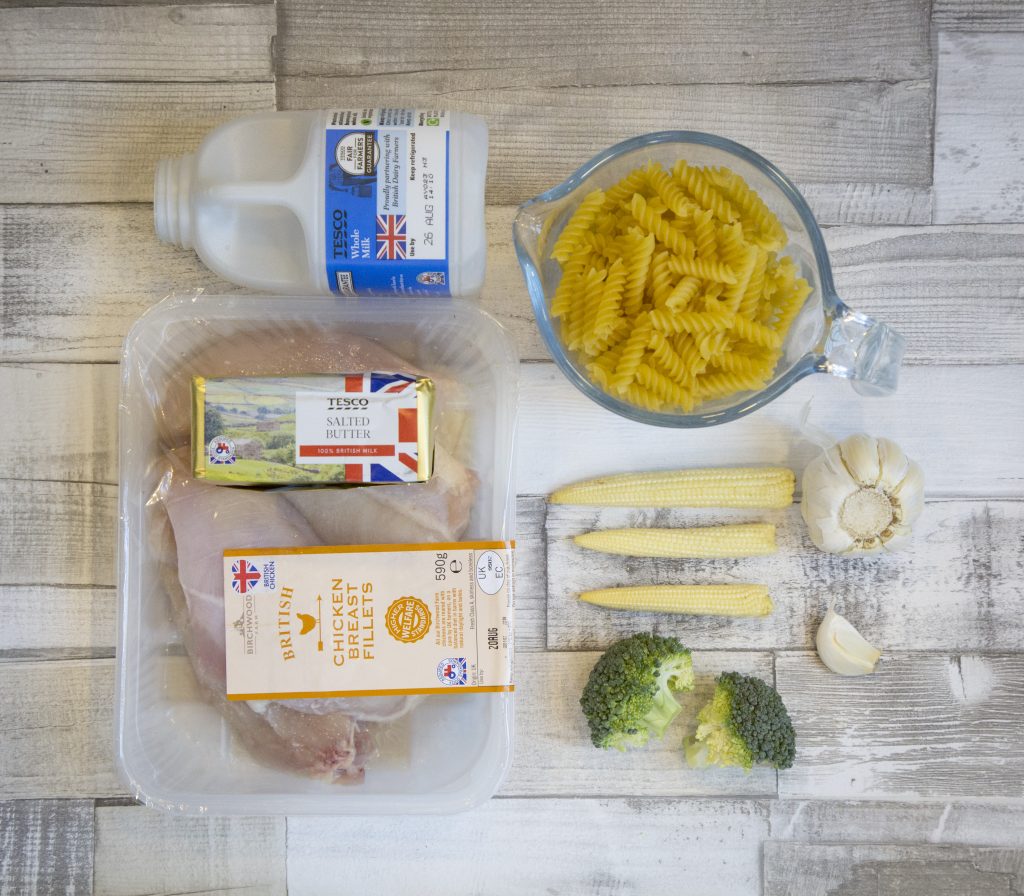 Warm the milk, mix this with the warm stock, butter and flour, garlic & seasoning
Add the dried pasta.
Cut the chicken into small pieces and add to the mixture, stir well.
Add the cream and half the cheese.
Add the broccoli and sweetcorn, be as generous as you wish depending upon your taste
Cover the dish and bake for 25 minutes
Take out and sprinkle with the left over cheese
Bake for another 20 minutes until crispy on top!
That is it! A perfectly cooked low cost meal for the whole family which can be adapted to whatever your favourite vegetables are.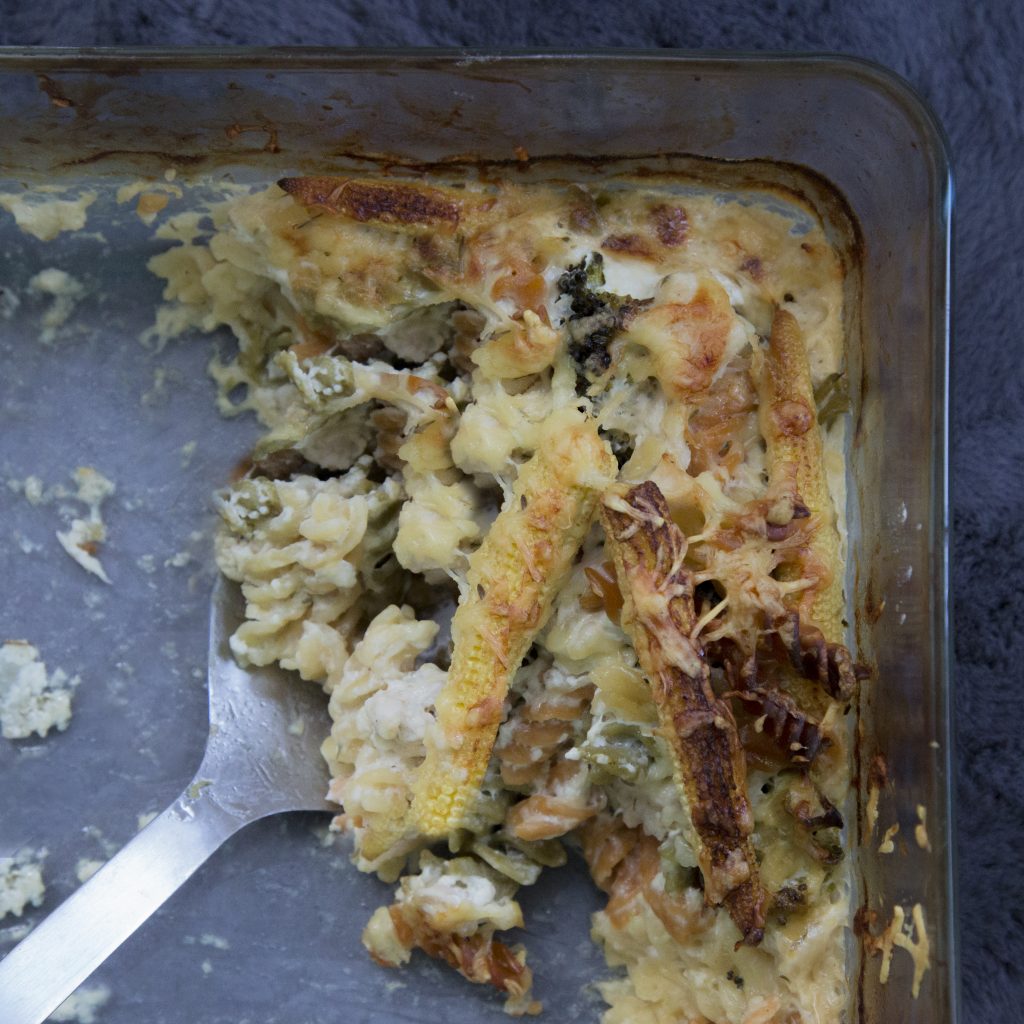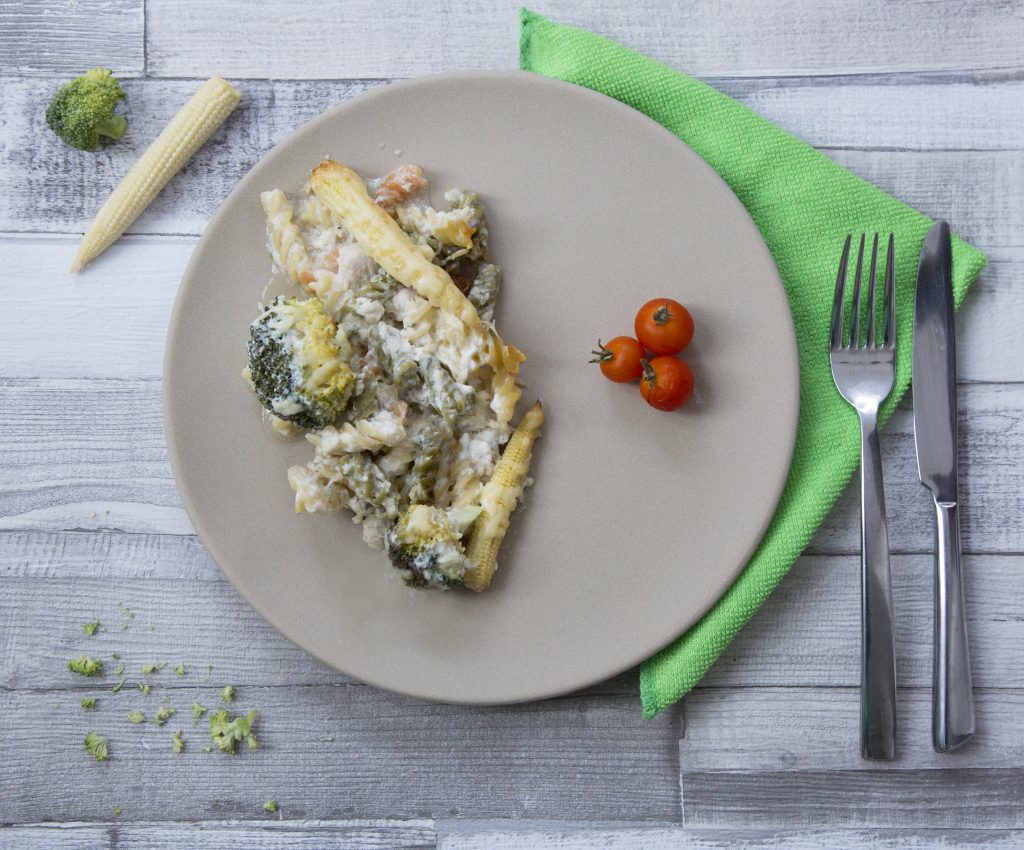 This meal is simple and nutritious and can be tweaked to include your families favourites, I think its a good challenge to pace the supermarket isles because it really makes you realise the air miles certain products can rack up. I live in a town and have lots of different large supermarkets around me, all are good for Red Tractor produce. I prefer to buy local if I can, but obviously with a large family cost is also important. The Red Tractor logo assures me of where my produce is from and also means I won't be paying a huge premium.
This is my entry to the British Poultry and Red Tractor Recipe Challenge