Oh I love a good old meet up with 'likeminded' folks, last night I went a superb meet of some local photographers all keen to try out some painting with light, we waved fairly lights, my new v.24 lightwand, wire wool in a whisk (very effective) and a flame torch. I thought I would share some of my results.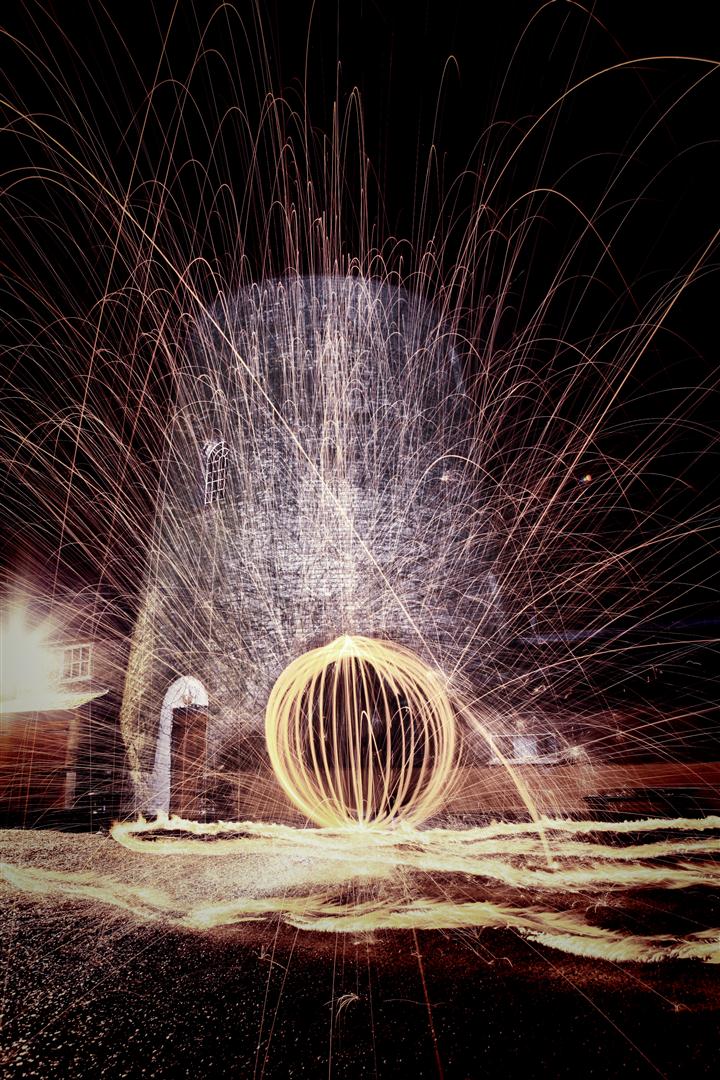 This photo was taken using wire wool pushed into a whisk. Its very good at giving off lots of sparks, to get an image like this you will need:-
1. Steel wood – from any hardware shop, make sure you get grade 0000, 000, 00 or 0 as the grades above are not as good at giving off sparks.
2. A whisk – yes, seriously! You can usually pick these up for  a £1 from the cheap shop, it will get broken so don't use an expensive one!
3. A metal chain – I used a toilet chain, you just need to be able to link the end of the whisk to it.
4. A tripod – As you will be doing long exposures, and a self timer.5. A lighter or a 9V battery – to light the wool with.
5. A powerful torch – to lightpaint the building
6. Safety goggles and clothes you are not really worried about!
7. Patience!
This was taken with two exposures – the first lit the building and the second for the wire wool. The were put together in Photoshop using layers, and this is the result.
Shutter Speed: 30 Seconds
Aperture: f.8
ISO: 100
Focus: Manual Focus Get someone to stand with a torch so you can prefocus your camera, then remember to turn off the autofocus!
Tripod
Choose a point to pivot on and then spin the chain around in a circle, this will give you a 3D orb shape, the sparks do go everywhere so make sure your eyes are protected and always remember to check there are no sparks on the area you have been working at that could ignite after you have left. Its also wise to find a quiet place to do it, it does attract attention and sometimes even the police!
I have uploaded a nice image of light painting to a new site called Million Eyez, this is free to use and enables your blog posts to be livened up by superb images from all over the world. Feel free to use mine on there. It's a great site, be sure to check it out.