I adore vintage and especially English vintage. In my opinion there is nothing more elegant than the fashions and styles from the 1930's and 40's, as you all know I love the era and often go to events all done up with victory rolls and retro fashions.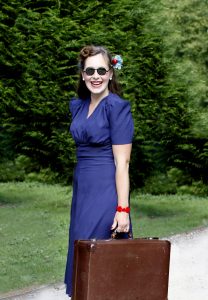 Here is a recent photo from one of the events I went to, the dress is reproduction. I don't own many authentic pieces from the era but when I find one I treasure it. I'm always on the look out for sellers that sell quality  items from this period and I think I have found a really nice seller with great ratings on Etsy called ELFeelgoodsVintage they are based in Belfast, Northern Ireland but ship to the UK.
One of my favourite items on her list of items is a lovely brooch, I wear brooches quite often, they are great to jazz up an otherwise quite plain outfit. This would also work on holding together a gaping outfit or could be added to a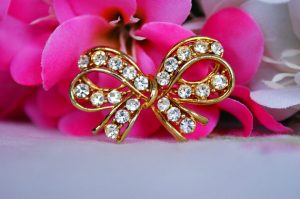 hair flower as a little sparkle. The quality is often better on vintage items as they weren't mass produced as things are now and have so far stood the test of time!
I also love her crockery, you can't beat a cup of tea in a proper china cup and no house is complete without a good set of cups and saucers. I love the set she has here. They look really pretty and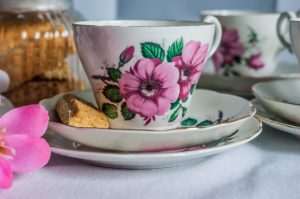 would also make great table decor for any wedding or party. I just love Etsy and seem to spend a fortune on there. But be sure to take a look at the lovely vintage things she is selling.