This is a great bloggers competition – Debenhams are offering two lucky bloggers the chance to win £250 each. To win, all you you need to do is work with your little ones on a blog post to tell us what their must-haves are for their perfect Easter garden party, using the huge range we have available at Debenhams. The competition link is here if you want to enter, but hurry it closes on 13th March 2016.
My children love Easter, its a combination of chocolate, and time off school so we are currently in the pre-Easter egg-citement at the moment in the house. Photo is of my younger three children jumping for joy at the end of term. I'm guessing Easter will get a similar reaction!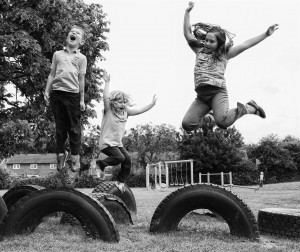 When I mentioned this competition it made them realise quite how close Easter actually is. I got them looking at the range of outdoor garden toys and it actually got them out in the garden playing with things they hadn't thought about since the end of the Autumn time. From the website they chose
The perfect Easter party
Ah! we love parties, and especially Easter parties!  Hopefully the weather will be reasonable by Easter so we wouldn't need to hold it all indoors and more importantly so the house doesn't get too trashed! So what would we need…
 Invitations (of course!) and some friends!
Plastic Eggs to fill with sweets
Bags or boxes collect the eggs in
Pens, and stickers for decorating the bags
Sweets to put in the eggs
Prizes
Invitations
Some helping hands to decorate the garden and do some suitable food
However, with all good parties there are other things to do in the garden, this is where Debenhams comes in as they have a superb range of outdoor garden toys to choose from. My son's number one choice was this, a trampoline.
1. Plum – 14ft Whirlwind Trampoline and 3G Enclosure
My children enjoy our trampoline almost the whole year, I have in fact seen them on it in the snow! They adore it and I have to say it is the item that has had the most use of all of our play equipment. My younger son is superb on it and I have signed him up for lessons now. When we have parties we always do craft activities and while some are doing that others are on the trampoline or climbing frame. I usually put flags around it or bunting to make it look more festive. Photo left is of my son loving it.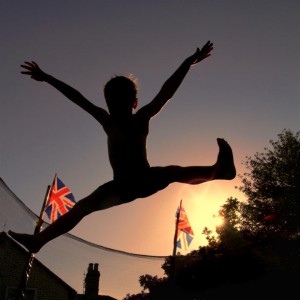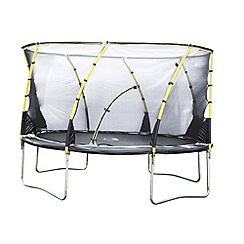 2. 
DC Comics
Batman vs Superman Space Hopper
These are a firm favourite, I would do a space hopper race, buy a couple of get some of the children to bring theirs. A lot of my children's friends also have them. Organise a race and log the best times the children arrive at!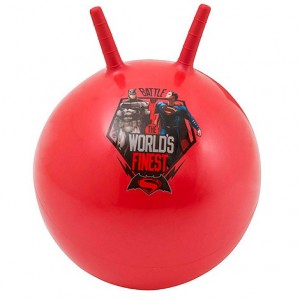 3. Intex 8′ Easy Set Pool
This is another firm favourite with the children, obviously Easter might be a bit chilly but it could be set up and used for fish a duck which is a great game, again this could be a timed fun activity.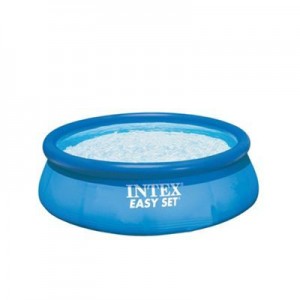 3. Re:Creation Fuze Bike Bubbler
No party is complete without bubbles, kids just love them, especially against a bright blue sky.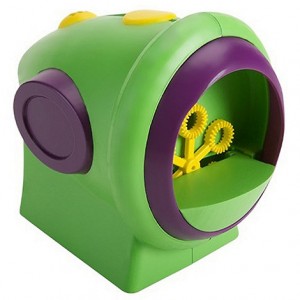 4. Mookie Hula hoop
Again a great activity, they can be used conventionally or for other games such as throwing or jumping in.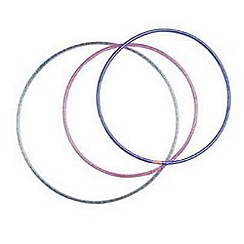 5. Swingball Classic
As a family we just love this game, it lives on and on and I remember many happy-a-day playing it with my parents on holiday. Our children beg for it to be set up in the summer, but why not get it out early!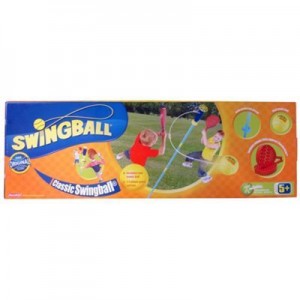 No party is complete without a cake!
We had a go at making this cake we found on pinterest, my girls loved having a go and it tasted as delicious as it looked. Then we tried brownies with crème eggs, this was equally as successful!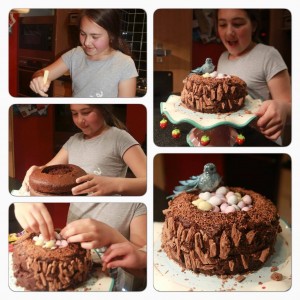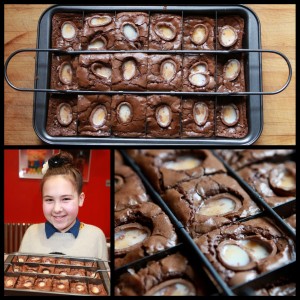 This is my entry for the Debenhams Easter bloggers competition.