I've always loved animals so when I saw that Eurotunnel were asking bloggers to blog about their pet stories I felt I had to have a go. If you want to try too all you have to do is publish a blog entry before the 25th January about your favourite pet story using social media and #petlovers.
We have had cats for as long as I remember, when I was young we had tabby cats called Tiddles and Hannah. One funny story relates to when we took him to the vets, in those days the vaccines were expensive and generally weren't as available as they are now-a-days, so many cats caught things and they sometimes got poorly. Well, this time Tiddles was ill, he was sweating loads and lethargic. My dad took him to the vet along with me, when we took him into the room the vet insisted on calling him by his name which my dad winced at every time he said it. The more embarrassing thing was that when he called it I butted in with his middle name which was POM-POM (forgive me I was only 7 when I named him). The vet raised an eyebrow and insisted my dad repeat the name. I have never seen him more embarrassed. It was very funny and once Tiddles Pom-Pom had a few doses of medicine he was back to his normal self.
Photo of me aged about 8 with my dad and one of my cats.
We had the cats until I was about 18, my parents refused to get any more as we lived by a main road and neighbours were always loosing their cats to the road. So when I got married we decided we would like cats, my husband's family had always had cats too so it was decided we would get a couple of kittens as soon as we got a house. We found a lovely house in a quiet cul-de-sac, it had a woods next to it and was ideal for having cats. So we made enquiries and got a kitten, we then added a second kitten, but made the mistake of getting a boy and a girl (unrelated) kitten. Of course the inevitable happened and they produced three tiny but perfect beautiful kittens. We found a good home for one of them and we received Christmas cards from the family who homed him for over 15 years showing what he had got up to that year. We kept all 5 cats – they all lived a good life and our eldest lived up to 18 years old.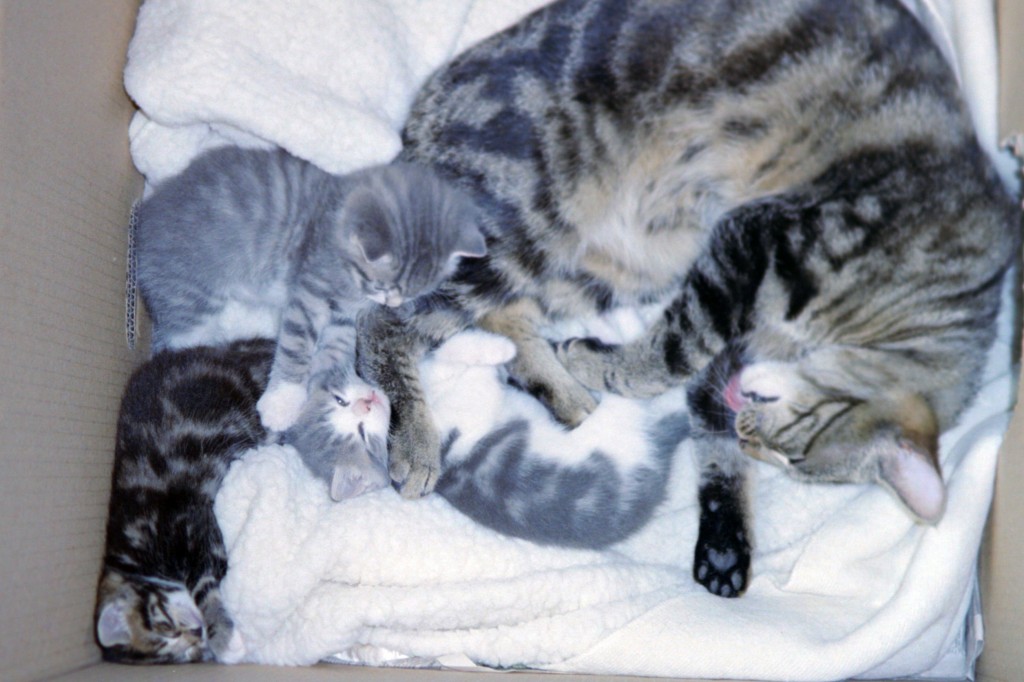 This shows dad and his babies, he was such a softie he even helped wash them when mum was too tired.
Again, these cats lived a very long and happy life despite being very naughty. I remember once having my cousin over, he was helping out and earning a bit of money in the summer holidays doing some gardening for us. I had cooked him a lovely sausage and mash dinner as a reward for his hard work, as he went to get cutlery the cat pushed the sausages off his plate and ate them in front of him. I think given the look my cousin gave him he possible lost one of his 9 lives!
Our children had loved having the cats but as they got older the cats really just wanted a quite corner to curl up in. We had a lovely ginger tom just down the road so my daughter had always said she would love a big fat ginger cat, I tried to explain that not all cats are friendly but she wouldn't have it. I went in search and after talking to a dog groomer cousin of mine she said she knew a lady who was looking to re-home her two Maine Coon cats and one was a big ginger tom. I Googled the breed as I hadn't heard of it before and I fell in love. I made contact with her and within a week we had collected them. They were beauties, the funniest thing being that as we let them out they tried to stack on top of each other, they hid under my desk to begin with, once stacked on top of the other in such a bizarre way. As a few days went by the got more and more adventurous, we were soon in love with them. Their odd quirks include going bonkers over running water, cat stacking in scary situations, following you everywhere, trying to get on the toilet faster than someone trying to use it, loving hot chocolates and yorkshire pudding mixture!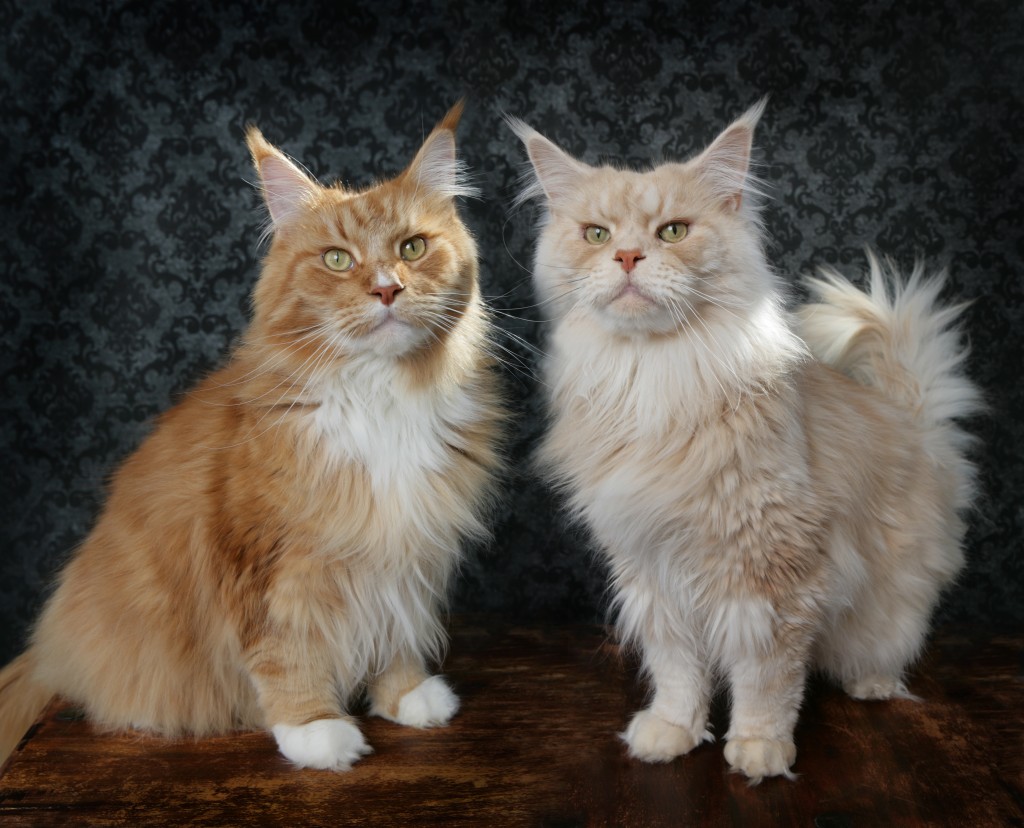 Nelson and Simba showing off how beautiful they are
Sadly we lost Simba (cream) just before Christmas, we were all devastated, but Nelson (ginger) is doing well and we had decided to continue our cat tails as we are adding Jasper below to our family in February. We are hoping he gives us some fabulous #petlovers tails to tell.
Below my daughter Eleanor holding Jasper who we get in February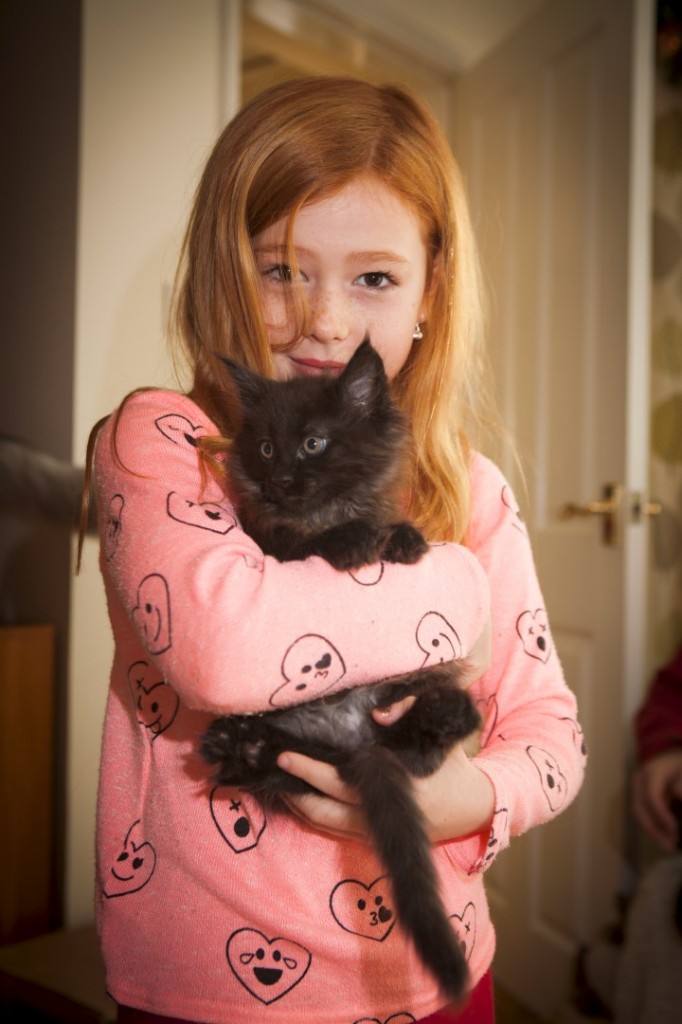 This is my entry for Eurotunnels #petlovers pet writing competition sponsored by Eurotunnel and Arden Grange