What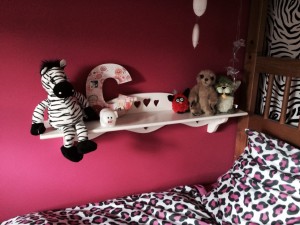 a fun competition – TOTS100 and Victoria Plum are asking us bloggers to take a photo of a favourite shelf around your home, and share the picture on Instagram or Twitter using the #shelfie hashtag, and tagging @tots100 and @victoriaplumb. I immediately went up to my daughters bedroom and took a photo of her shelf, she chose all the items in the bedroom herself, and it is zebra print on one wall and hot pink on all the others, the bedding is pink leopard print. It kinda goes! Anyway my two daughters just adore their bedroom – my daughter uses her shelf for her favourite toys, you have a zebra (to match the room) her furbys and a meerkat – quite why she wants a meerkat, I'm not sure why as we booked a petting session at the local zoo and one of the animals bit Charlotte quite badly, but she obviously doesn't hold a grudge!
Why not enter your own 'Shelfie' and have a go at their quiz too (click here) and potentially be the winner of £250 I did the quiz and funnily enough I got 'You are Mr or Mrs Glamorous' – Your style is most like Joey Essex or Sam Faiers from TOWIE, very funny!
This is my youngest daughter showing off her room!