I love Spain, so when I saw that Tots100 were offering us bloggers the chance of winning a trip I felt I had to enter. If you also want to blog about Barcelona you can find the competition details here.
I have been to Barcelona twice now; the first time as photography student – I found it stunningly beautiful and travelled round all the sites in the guide books, took lots of photos and had a great time. The second time around I spent a few days in the city with my husband and four young children. So two completely different holidays, the last time we went we did all the tourist sites, here is where we went.
La Sagrada Familia
We visited the La Sagrada Familia but ended up spending just as long in the beautiful park just in front of it playing with the children. In fact the views of the architecture were even more stunning from the park. I think all too often the emphasis is to get as close to something as possible and the overall view is missed.
Mercat de Sant Josep de la Boqueria
The next day we spent walking round the Las Ramblas, we stumbled upon a lovely market called Mercat de Sant Josep de la Boqueria which was filled with amazing foods, people and bric-a-brac. It was a colourful and large market, containing every type of food you could imagine. The children loved the colourful food and especially the sweet stalls.
The Mediterranean Sea
When you go abroad you have to sample the coastline, and the children love it too. We spent a day out enjoying the Barcelona coastline – children love sea, and especially warm sea! I wasn't quite as prepared for the topless bathing as my baby was breastfeeding and very keen on boobies, she kept pointing which was entertaining but slightly embarrassing too. We all had a giggle about it afterwards as she spotted a well endowed lady and shouted boobies (she was only 1!) the lady understood what she said and smiled!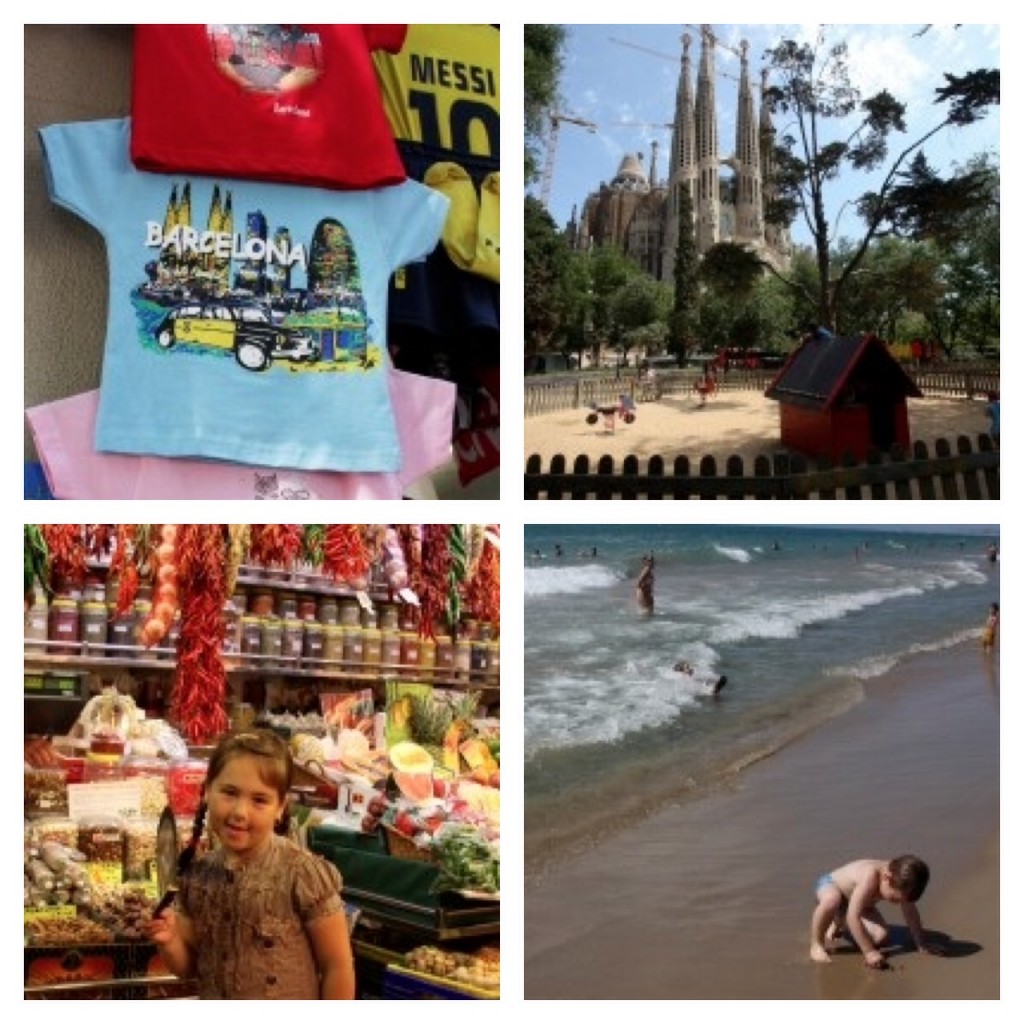 The Montserrat monastery
While we were in the area we decided to travel a bit further out to see Montserrat monastery, it lies about 45 km northwest of Barcelona and is an easy journey or bus ride from Barcelona, many bus companies run trips on a regular basis. We drove there as we had hired a car, it was an excellent journey reminiscent of the bends which are filmed for Top Gear, I was only slightly nervous! To make it more fun we drove to the cable car and travelled to the summit in style. The cable car was journey was amazing – I would really recommend it. When we got to the top we looked around the stalls and bought some cheese from the monastery, I think the children were more impressed with the journey than they were the monastery!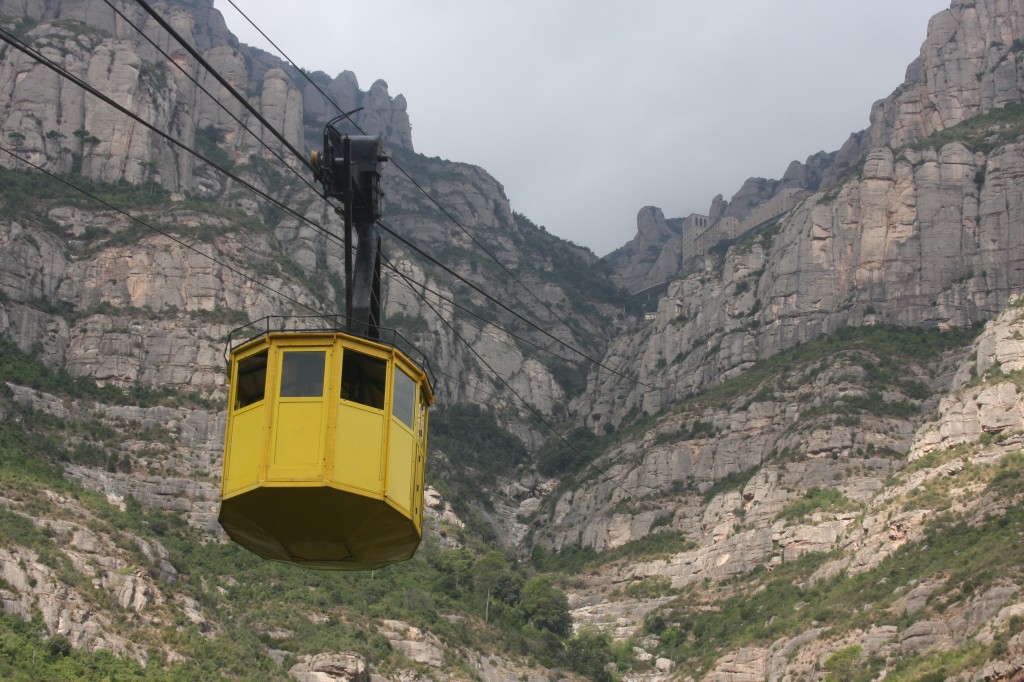 Above – The cable car we took to the Montserrat monastery
Tibidabo Amusement Park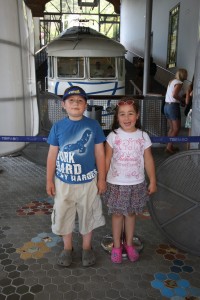 We decided to try to use as many forms of transport as possible on the next day so we investigated the Tibidabo Funicular to Tibidabo Amusement Park which is at the top of a hill 500m looking over Barcelona, it was great fun getting the funicular, the children found it very exciting as they had never experienced being on one before – a kind of cross between a bus and a train – but not quite a tram! We climbed to the top and was treated to beautiful views over Barcelona and the surrounding areas. The park is superb too, 25 rides to choose from for a reasonable price, a perfect offbeat activity for the children and great views for the adults!
Right – Our eldest children in front of the funicular on the way to Tibidabo Amusement Park
All of the above photos are taken by me of our family, the photos below are sourced from the Internet to show where I would love to visit.
So what would be our ideal itinerary for 4 days in the Catalonian capital if we went again?
Day 1 – Fountains and Crepes
If I was given the opportunity to travel back to Barcelona I would plan a trip to Guell Palace, which was Gaudi's first major building in the city, it looks incredible and would be a dream to photograph, even if the children weren't with us I am sure I would love to throw a few euros into the lizard fountain for them!

On the subject of fountains I would also love to see The Magic Fountain by night which I have been told is amazing. The Magic Fountain's water jets are illuminated in many different colours, and the water dances with music and lights, it was restored in time for the 1992 Olympic Games, and best of all it is free!
I would finish off the day with a lovely romantic meal in the number 1 rated Chulapio Bar a Crepes. It sounds the perfect setting with Louis Armstrong playing and seems like it serves excellent and real value for money dishes. I am actually feeling hungry reading about it.
Day Two – Science and Flamenco!
Both my husband and I love science so even if we went without the children I would definitely want to go and see Science Museum (Museu de la Ciencia) it sounds great fun, with lots of interactive exhibits and things to see and do. Aeroteca looks amazing too, I have flown a few times with a friend and would find it fascinating seeing inside real cockpits looking at the exhibits lots of people talk of. I have also heard amazing things about La Casa Vella – Flamenco in Barcelona, where you can be part of an authentic "TABLAO" (Flamenco set).
I love photo keepsakes and this sounds like a really fun thing to be part of.
Day Three – Day trip to Figueres
This is such a must, Figueres is the birthplace of Salvador Dali, one of my favourite artists. His amazing artwork fills a museum which is on the border between France and Spain. We have been before with the children but I would love to go again and look round at a leisurely pace!

Day Four – Staying local

On the last day of the holiday I always prefer to stay local, I would suggest looking at the markets and walking round the Las Ramblas, taking in the street art and buying any souvineirs. Having a lovely Tapas along the main streets and watching the street performers. We have simple tastes and the opportunity to get away from it all would be more than enough to make me happy.
Viva Espana – I love Spain!