I have just been emailed about a wonderful competitions run by Cycle Addicts, as soon as I saw it I knew I had to enter. We all love our bikes and scooters, in fact hubby has just build a cycle rack as we have so many bikes and scooters with six of us in the house, all of course very precious and all with different uses. Below is a piccie taken by me of all the children – our youngest lagging slightly behind!

With four children I have quite a few moments to choose from but one of the funniest has to come from when my youngest was in the school nursery which would have made her about 4. She had been noticing the differences between men and women and had started drawing men with willies and women with boobies. I went in one day to collect her and the teacher just chuckled, when I saw the drawing she had done I understood why. She had apparently drawn hubby with a massive willy and me next to him wearing the most massive smile. I laughed at the teacher and said 'I can understand why I have a big smile on my face'. She was laughing so much she was crying in the end and I joined in, hubby thought it was especially funny when I brought the drawing home, still it beats being drawn with a tiny one!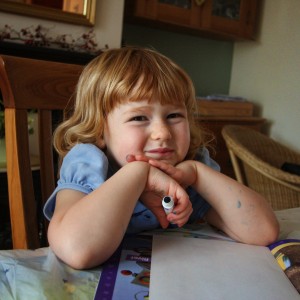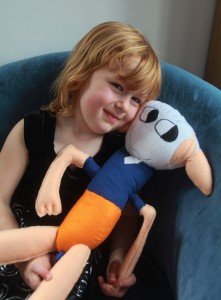 Here is my cheeky daughter, and her with one of her drawings made into a stuffed toy – to remember it forever!
Some other bloggers that might be interested in entering are
Di Coke – http://www.superlucky.co.uk
Looking for the postman – http://lookingforthepostman.wordpress.com