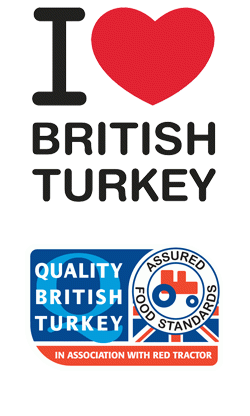 I love food and I am especially keen on chicken, so when I saw a competition to make a superb turkey recipe I felt I had to enter and adapt my usual chicken lasagne recipe which is so loved in our house, it is an ideal recipe as a winter warmer or as a summer supper. It is well worth entering as there is a prize of £200 money off vouchers and 2 lovely runners up prizes of £50 too. All you have to do is to create an innovative dish that can be served at any time of year using British Turkey (mince, breast steaks, diced thigh) and 2 non-meat Red Tractor ingredients from the approved list. It is being run by British turkey in conjunction with red tractor, if you want more details find out more here.
As you all know I am not a brilliant cook, I tend to like doing things the easy way as the children keep me busy so preparation time is always kept to a minimum, easy recipes are standard in this house! I also try to sneak more vegetables into my dishes to add some nutrition, although my children are keen to try new things they sometimes try to pick out vegetables if they are too large, for this reason I have finely chopped the vegetables in this meal. When shopping I looked for the Red Tractor logo on the food, as the list said just about all English grown vegetables come from a Red Tractor grower, I found the logos on the tomatoes and the spinach as well as the turkey, but where possible I bought English produce to ensure it kept within the rules.
Really Easy Turkey and Spinach Lasagne
Ingredients
500g British Red Tractor turkey mince
400g can chopped plum tomatoes
3 fresh tomatoes
3 English mushrooms
1 small pack of fresh spinach
1 pack dried lasagne sheets
2 balls mozzarella, sliced
50g Parmesan cheese, grated
I small tin tomato purée
1tbsp olive oil
1 onion, finely chopped
1 clove garlic, chopped
Salt and pepper
Nutmeg
For the sauce:
25g (1oz) butter
25g (1oz) plain flour
500ml (17fl oz)milk
1 bay leaf or as I did use a white sauce pre-made to reduce preparation time.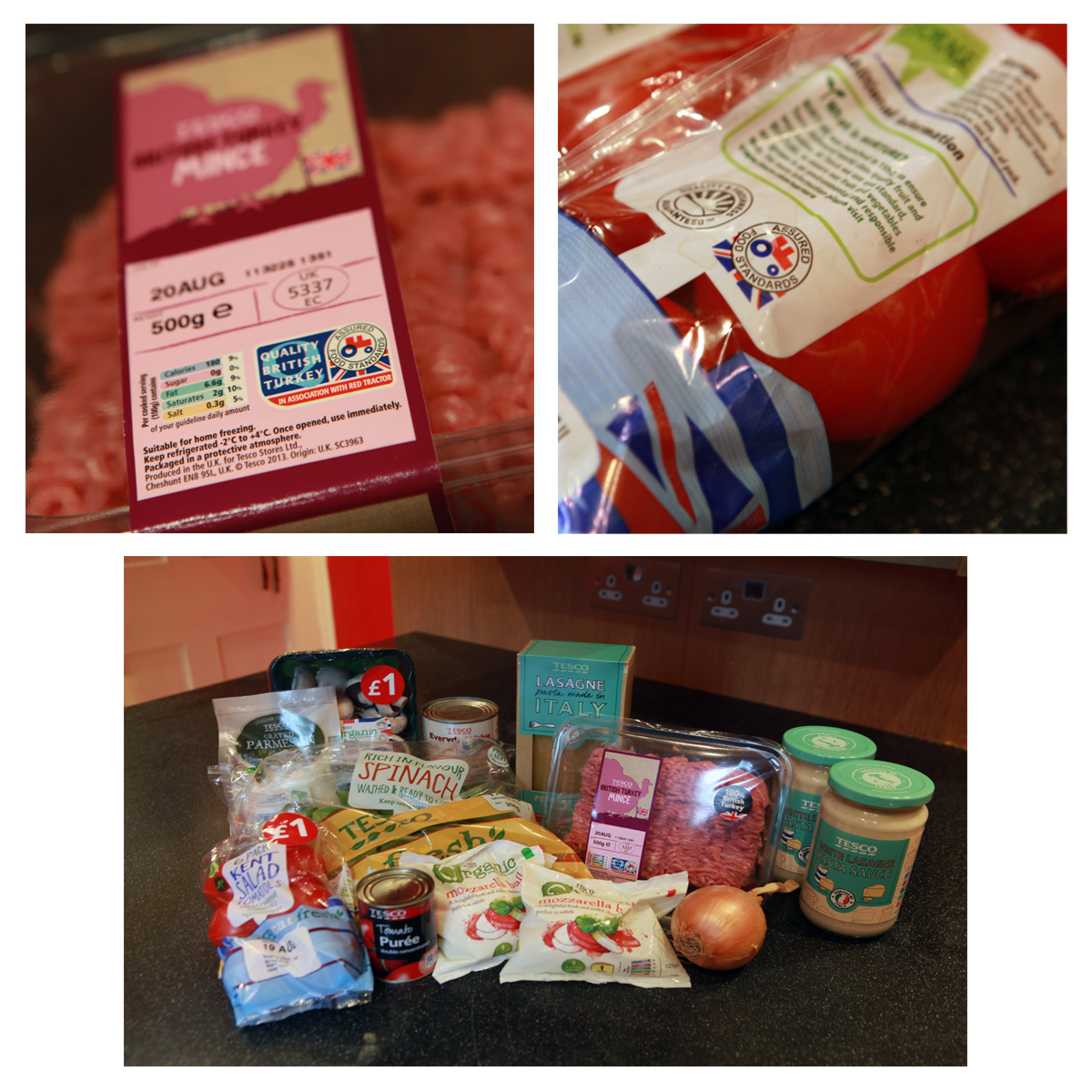 Method
Preheat oven to 180°C. Heat the oil in a large frying pan and add the finely chopped garlic, and onions.
Cook the turkey mince until lightly browned. Add nutmeg for additional flavour.
Finely chop the mushrooms.
Soak the lasagne sheets in hot water to stop them being crunchy.
Then add the turkey mince, tomatoes, purée, mushrooms and seasoning keeping well stirred. Turn down the heat to low and continue to cook for about 15 minutes until thickened.
Either make the white sauce or use a premade jar as I did.
Layer the sauces; begin with a small amount of the meat followed by lasagne sheets, followed by white sauce and spinach.
Lay the diced mozzarella on top and cook for 30 minutes until golden brown.
Grate the parmesan cheese for serving.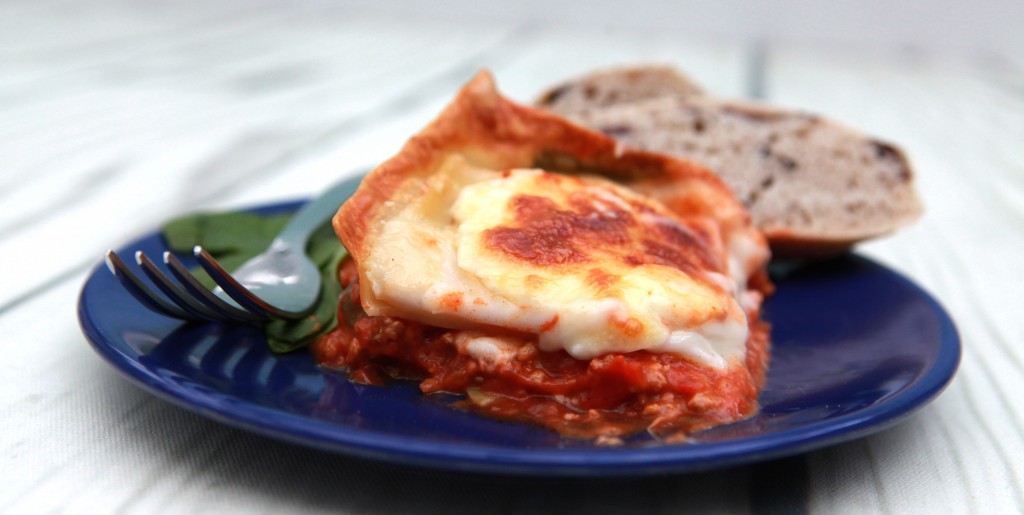 So here is how to layer it if you have never done a lasagne before
 just a little bit the tomato/turkey sauce on the bottom;
1/3 of the lasagne sheets;
1/3 of the white sauce mix;
A handful of fresh spinach;
1/3 of the tomato/turkey mixture;
1/3 of the lasagne sheets;
1/3 of the white sauce mix;
A handful of fresh spinach;
1/3 of the tomato/turkey mixture;
1/3 of the lasagne sheets;
1/3 of the white sauce mix;
A handful of fresh spinach;
1/3 of the tomato/turkey mixture;
Layer the top with the mozzarella cheese
We served the meal with three olive stonebaked bread with a balsamic vinegar dip, the children loved it and it was a huge success. Additional servings were demanded too and the room was quiet – a huge achievement for a family of 6!